Site Content

© 2009 Stephen J. Puetz.
All rights reserved.


Site Content
© 2009-2021 Stephen J. Puetz.
All rights reserved.

Publications

Receive the 1st week of the Universal Cycle Theory Financial Newsletter for Free!
Read the latest market forecasts.

This monthly publication covers a variety of topics, including conditions in stocks, bonds, commodities, currencies, the economy, and political trends. No need to pre-pay. Receive the first week free to ensue your satisfaction. After the introductory offer, PayPal charges $9.75 per month for the newsletter. If at any time you wish to cancel, simply click on the Unsubscribe button at the bottom of this page, and your subscription immediately cancels on the same day. You have no risk whatsoever! Start your free trial subscription to the Universal Cycle Theory Financial Newsletter now by clicking on the Subscribe button below
.


Pay by check or PayPal:
1) Credit or debit card.
Use your PayPal account.

2) Payment by check.
(1-year newsletter = $117.00)
Mail check payable to:
Stephen J. Puetz
Universal Cycle Theory
475 Atkinson Dr. Unit 704
Honolulu, Hawaii 96814
U.S.A.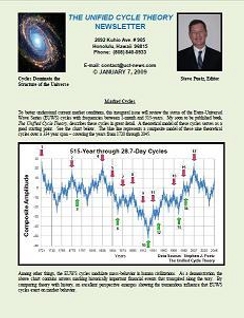 Important:

Although payment by a credit or debit card is secure, payment via your own PayPay account adds an extra level of security to your transaction. That's because you register your card through PayPal and eliminate sending that information to vendors. With PayPal, you simply log into your account, and approve payment for each transaction -- without passing sensitive credit card information through the Internet. Additionally, to use either the

Subscribe

or

Unsubscribe

buttons on this page, you are required to possess a PayPal account. If you click on the

Subscribe

button, PayPal will automatically open an account for you. Or, if you want to open a free PayPal account ahead of making your payment, click below.
PayPal Account Setup.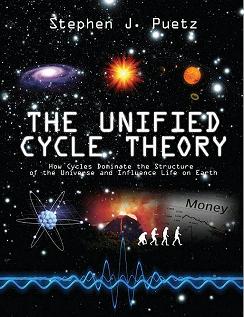 Order the 1st book in the series:

The Unified Cycle Theory
[Puetz, 2009]

This
easy-to-read 489-page book discusses the major physical cycles found in nature, and then explains the extent of their influence. Order the book at Amazon.com:


Click here to order The Unified Cycle Theory at Amazon
Cancel Your Subscription.
If you currently subscribe to the

Universal Cycle Theory Financial Newsletter

, and you wish to cancel your subscription, simply click the

Unsubscribe

button below.

Order the 2nd book in the series:

Universal Cycle Theory
[Puetz & Borchardt, 2011]

This
easy-to-read 618-page book presents a non-contradictory theory of the universe in terms of cycles and infinitely divisible matter. Order the book at Amazon.com: